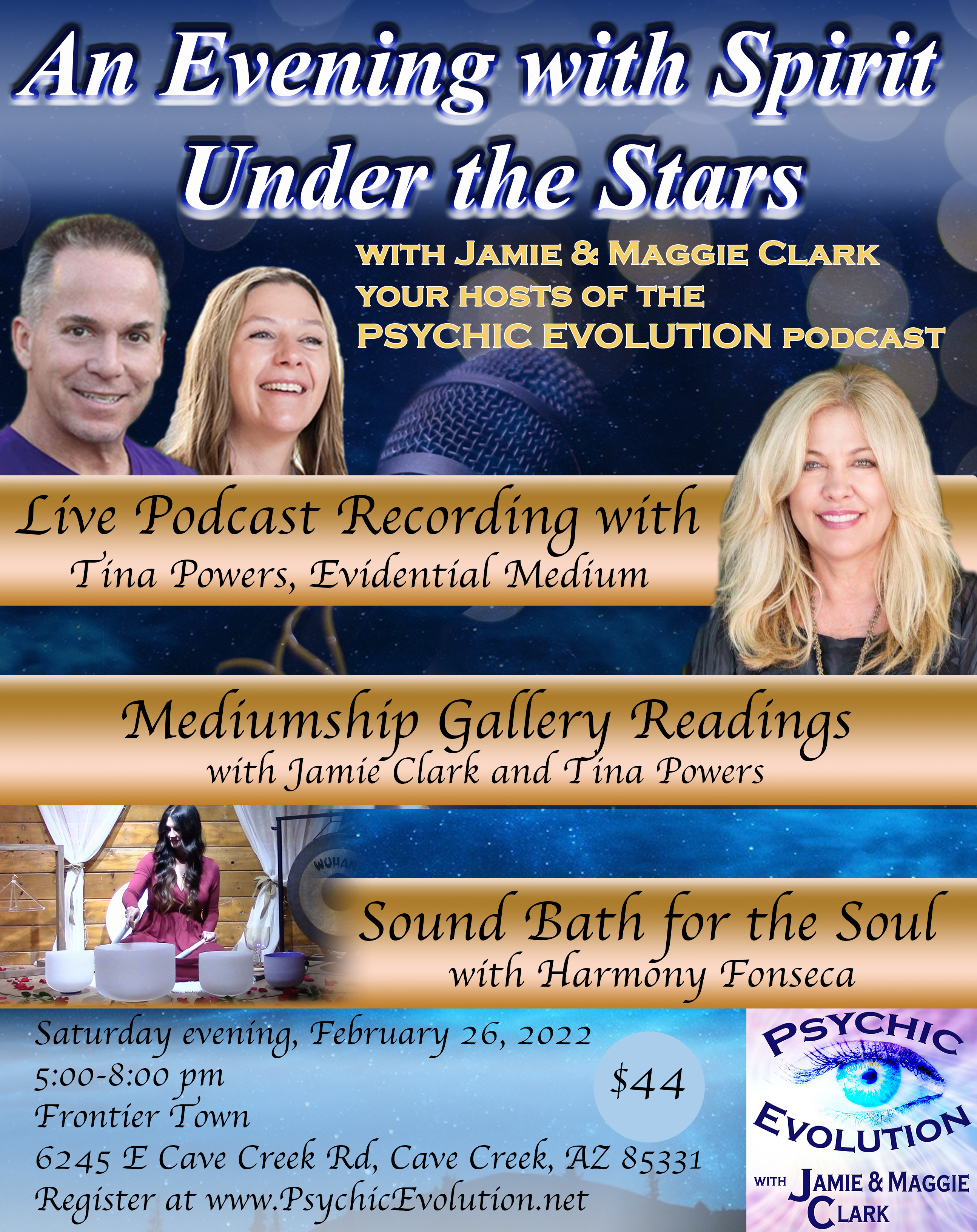 Join your Hosts of the Podcast, Psychic Evolution for a live recording on Mediumship with Gallery Readings and a Sound Bath for the Soul!
We are so excited to announce another Live Podcast Recording Event with one of our favorite topics...MEDIUMSHIP...connecting with your loved ones on the other side! We have invited a very special guest who is dear to our hearts, Tina Powers. Tina has been seen on The Real Housewives of New Jersey and has also been featured in The Wall Street Journal. Jamie Clark and Tina Powers are both Evidential Medium Advisors for the Soul Phone - ground breaking technology to contact those who have passed on. This is a Mediumship event that you won't want to miss!!!
Join Jamie and Maggie Clark for an Evening with Spirit Under the Stars for a LIVE Podcast recording in beautiful Cave Creek, Arizona at Frontier Town. They are welcoming Special Guest, Tina Powers, for a magical Episode on Mediumship.
Enjoy the Live Podcast recording with Evidential Medium, Tina Powers, talking all about Mediumship. Following the Podcast, Jamie and Tina will be doing Mediumship Gallery Readings for the audience. Come and experience the phenomenon of direct spirit contact. Jamie Clark, a natural born spirit medium, and Tina Powers, an evidential medium, will convey needed messages from your loved ones and friends that have graduated to the other side. In this group setting, they will communicate love and information that will heal your soul. Many people gain insight and closure to unresolved issues as well as receive information about possible upcoming events in their lives.
Finishing off the evening, enjoy a guided meditation with a healing Sound Bath for Your Soul by Intuitive Healer and Reiki Master, Harmony Fonseca - a former guest on Season 3 of the Podcast. Maggie Clark will guide you through a Connection with Spirit meditation to finish the wonder of the night.
About the Psychic Evolution Podcast - Discover the Psychic potential within you and learn how to empower yourself and manifest your Psychic and Mediumship abilities. Your Psychic senses are so natural they are super-natural!!! Listen to world renowned, Evidential Psychic Medium, Jamie Clark - your Host of Psychic Evolution - and Maggie Clark - your Co-Host, a prolific Spiritual Coach and accomplished Healer, as they team up to share their insights and perspectives for one of the most life changing and mind blowing podcasts!!!! Join the Evolution and find your inner beauty to heal and your inner light to shine!
About Tina Powers - Tina Powers is a former news anchor and reporter who now works as a professional medium and receives psychic messages. As she laughingly says: "It's reporting for the other side." Sensitive since childhood, Tina felt the presence of people who had crossed over but the intuitive information became a much more powerful force after she made the decision to leave the harsh reality of television news.
Tina lectures on intuition and holds private sessions with clients at the world-renowned Miraval Resort in Arizona. Her clientele is a veritable "who's who" of people from all walks of life from business leaders to celebrities who span the globe. Her warmth, infectious laugh and incredible ability to help people connect with a higher vibration enables them to lead happier lives.
For more than a decade, Tina worked for KOLD TV, a CBS affiliate in Arizona as a news assignment editor, producer, field reporter and anchor. She has appeared in numerous television commercials and was a morning radio show co-host for two years. Tina also co-hosted the Children's Miracle Network Telethon in Arizona for nine years. Tina has been interviewed on various topics from "the power of intuition" to "how to raise inspired, positive kids". She has also worked in film, television and theatre and is a member of the Screen Actor's Guild.
About Harmony Fonseca - Harmony is an E-RYT200 Yin ~ Shakti Yoga Instructor, Shamanic Life Coach, Retreat Facilitator, Womb Priestess, Yoni Steam Facilitator, Divine Feminine Mentor, Intuitive Healer, Reiki Master Teacher. Her passion is bringing women to-gather as sisters on a path of healing! Weaving the ways of the wild and wise woman into the lives of the modern-day woman can bring a sense of wholeness and freedom that we all long for.
Light snacks and refreshments will be available.
This is an outdoor event with the option to accommodate cold or rainy weather. Follow the fairy lights behind the front buildings.
*individual readings are not guaranteed*